Content is taking a grip over the Internet market. Again, every third person you meet can not write good and effective content. There are a handful of writers that are capable of drafting good content.
What's the reason behind their good writing? Definitely, their skills play a very vital role in writing. Above this what matters is your knowledge base, your reading habits, and memory power. These skills are not enough for perfect content.
While writing, it is obvious that a person will make mistakes. Generally, good writers review their articles after writing and only then submit them for publishing. However, it is never assured that proofreading will help you get totally error-free content.
You need some tools that help you with error checking and fixing them. A lot of online tools are available both free and premium. Every online tool has its own pros and cons to use it. However, you can not spend time and money on testing various tools turn by turn. So, here we bring to you a very efficient tool called Grammarly.
Grammarly Inc. launched Grammarly back in 2009 and since then it is very famous among the writer's community. Grammarly helps you with catching all the major and minor errors in your content and also gives you suggestions to fix them.
Grammarly has millions of words and phrases into their database, which helps you draft a perfect content with varied words used in it. Overall, Grammarly helps you detect 250+ types of errors.
Let's take a look at the benefits of Grammarly.
Benefits of Grammarly
#1. Grammatical and spelling mistakes
Grammarly helps you by detecting the grammatical mistakes and spelling mistakes in your content. It is very fast and efficient to catch up with those errors and to give you suggestions to fix them. It can also detect the statements written in a passive voice instead of active voice. It suggests you proper statements in the active voice to prepare good content.
It will highlight two types of errors, one with red color and the other with Golden color. The red highlighted mistakes are the crucial ones and the golden-colored mistakes are the advanced level mistakes.
#2. Plagiarism Checker
Plagiarism checker is one of the finest benefits of the Grammarly tool. You can verify the content's originality. The plagiarism checker of Grammarly is fast and very accurate to show you the correct figures.
You can get the percentage of the plagiarized content in your article and also it will highlight the plagiarized words. This will help you fix them with fewer efforts and time. Thus Grammarly's plagiarism checker will help you develop unique content.
#3. Free and Premium versions
Grammarly is available in both free and premium versions. In the free version, you can directly sign up on Grammarly.com and can start accessing the Grammarly tool features. With the free version of Grammarly, you can get the chrome extension for Grammarly and can use it for correcting crucial errors.
With the paid version, you can also correct the advanced level errors. The other benefit of using the premium version is that you will get access to the plagiarism checker. Moreover, the vocabulary enhancement functionality of Grammarly could be used in the premium version.
#4 Efficiency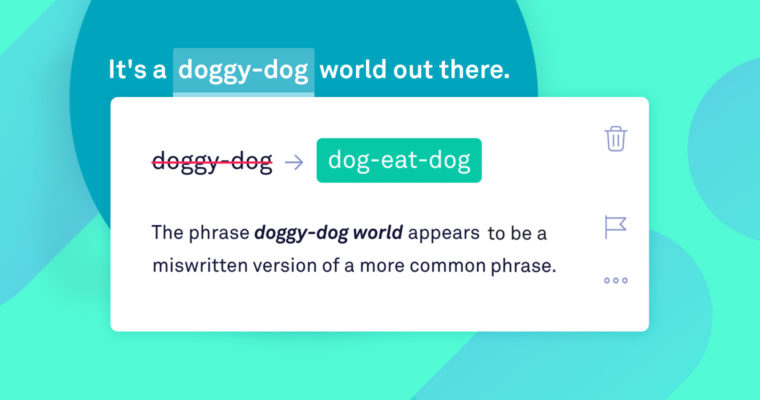 Grammarly is one of the finest and most efficient error checkers available on the Internet. Grammarly utilizes the Internet for connectivity with its server. It has millions of words and phrases in their database to serve you better.
Moreover, it works on the go i.e. it finds errors as and when you start typing. You do not have to submit your document for verification, it will directly do this on your system.
#5. Suggestions
Once, you make mistake, Grammarly is a strict teacher 😉 it will find out that mistake in seconds. Moreover, it will suggest you the alternate options that can replace the word or the phrase. Grammarly is smart enough to suggest only those words that suit the statements and holds the same meaning.
If you have written a statement into passive voice instead of active voice, Grammarly will point out the error that you have used passive voice. Moreover, in many cases, Grammarly will suggest the statement with an active voice. This makes your job easy and fast and also ensures that no further errors occur.
This way, Grammarly helps you with almost everything related to proofreading and correcting the errors. You can just set up Grammarly on your browser or your MS Word and it starts functioning. After reading these features of Grammarly, you might get a question, how to use Grammarly?? Let's take a look at it.
How to use Grammarly
The first and foremost thing you require is an account on Grammarly.com. Follow the steps mentioned below:
#1. Go to Grammarly.com.
#2. Click on Sign Up.
#3. Fill up the required details
#4. Confirm your email Id by clicking on the link that Grammarly sent you.
You are done! Now, you have your own account on Grammarly and you are ready to use it.
You can use the Grammarly tool on its editor which is available on their website. Also, you can set up Grammarly to use with your Google Chrome or Safari browser. To do so, follow the given steps:
#1. Open Chrome web store
#2. Find out Grammarly extension
#3. Install the extension in your browser
#4. Sign in with your Grammarly account credentials.
Again you are done!
Now, you can use Grammarly with your favorite editors like Gmail, WordPress, Blogger, Facebook, etc. You do not need to do anything else to use Grammarly.
Just start typing into your favorite browser and a green circle will appear at the bottom left corner of your editor. This will show the count of the errors and on clicking that it will open up the Grammarly editor for you to correct your mistakes.