As said "Content Is King!" and a king needs to be perfect. While drafting content it is obvious that we make mistakes. These mistakes are never appreciated in the content that we publish.
Thus, cleaning up your article before publishing or showing it to the client is extremely necessary. What matters is your perfection. We, writers generally proofread the article after writing but proofreading by ourselves may not be enough every time.
Even after proofreading there are chances that there will be ample mistakes in the content. Thus, we shall take the help of some online tools for catching up on our mistakes and fixing them.
The online tools available in the market will help you catch up with your grammatical and spelling errors and will suggest you on how to fix them. Thus, using such types of online tools is suggested.
Now, the question comes that there are a lot many such tools available on the Internet, which one to use. So, we go surfing for the most appropriate one. Again, spending our hard-earned bucks and our precious time is never a good way to find the right tools.
Here, we suggest you different online tools for checking and fixing errors. The two pioneers in the market are Grammarly vs White Smoke. Both these tools are into discussion among the writers. So, now let's take a look at the features of Grammarly and the features of White Smoke in this post of Grammarly vs White Smoke review.
Features of Grammarly
Grammarly launched back in 2009 by Grammarly Inc. is one of the most used tools for error checking. Grammarly is available in two different versions, viz. free and premium.
The free version is open to all, what you need is just an account on Grammarly.com. After creating an account on it, you can access the free version of Grammarly.
Let's see the features of Grammarly in detail:
#1. Highlighting Errors
Grammarly is very efficient and fast in catching up errors in the content. You just need to type in your content or copy-paste it in the editor and Grammarly will indicate the errors you have made.
It indicates a few errors in red and others in Golden color. The red highlighted errors are crucial errors that you need to fix before publishing. While the Golden colored errors are those that are of advanced level.
#2. Suggestions
When you hover your mouse over the highlighted word, Grammarly will show you suggestions to fix the error. The suggestions are so accurate that almost all the time they will suit the statements.
#3. Compatible with online editors and MS Office
Once, you get access to Grammarly, you can use it at multiple locations. Grammarly provides its own editor on Grammarly.com where you can put your text and can use Grammarly for checking errors.
You can also download the Google Chrome extension and can use Grammarly in the online editors like WordPress, Gmail, Blogger, etc. Along with this you can download the add on for MS Word and can use Grammarly with all the features of MS Word. This is one of the dominating points here in the Grammarly vs White Smoke review post.
#4. Plagiarism Checker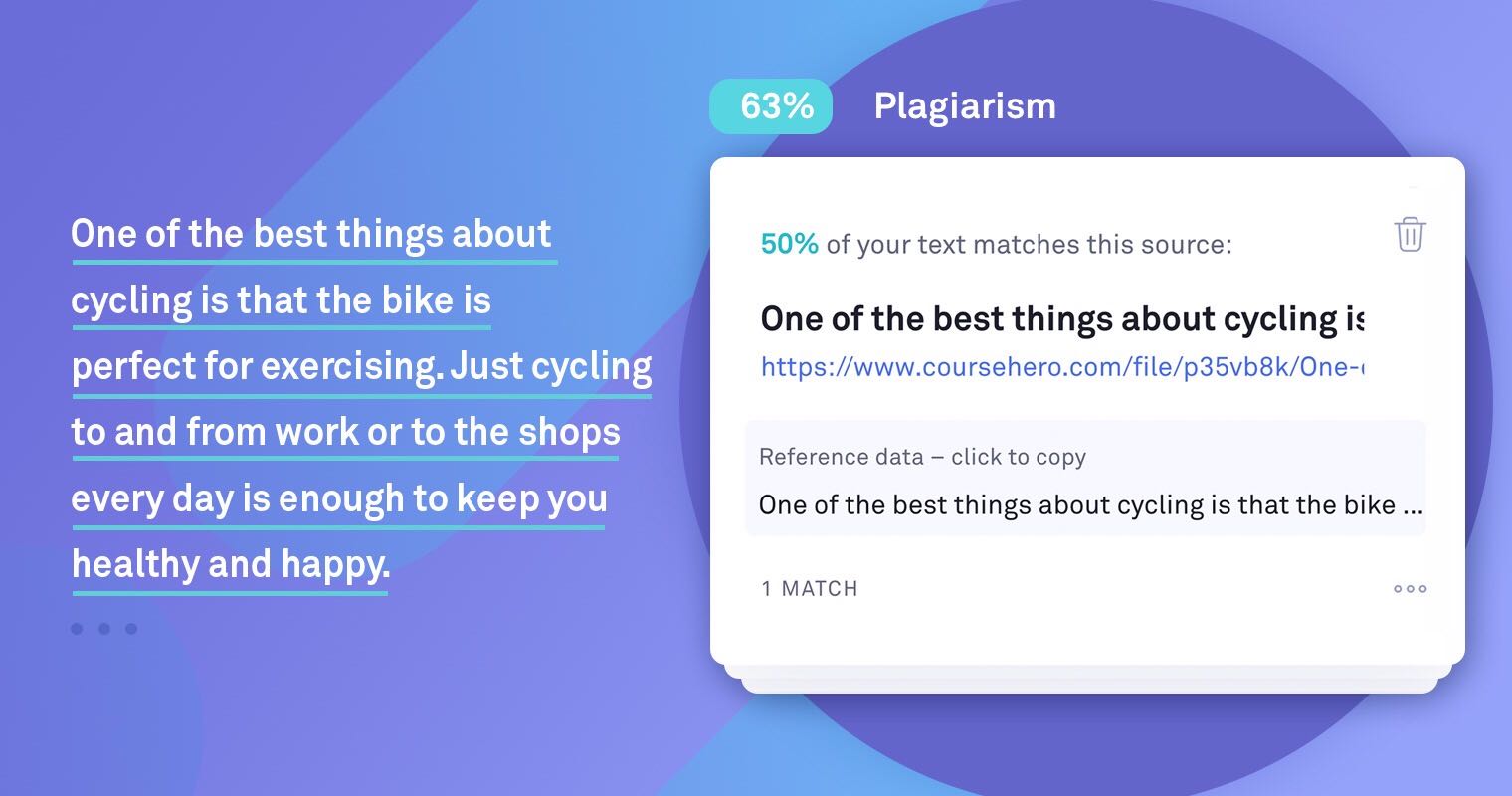 Grammarly offers a very accurate plagiarism checker. You can see the percentage of the plagiarized content in your article. Not only the percentage, but Grammarly will also highlight the statements or phrases that have been plagiarized. So you can fix them quickly and can develop great, error-free and original content.
This would have given a clear idea of how efficient Grammarly is. Moving ahead with Grammarly vs White Smoke review, let's take a look at the features of White Smoke.
Features of White Smoke
The main reason to write this post on Grammarly vs White Smoke Review post is that White Smoke gives a very strong competition to Grammarly and is even better at some points as compared to Grammarly. Let's take a look in detail at the features of White Smoke.
#1. Available anywhere
White Smoke uses cloud-based systems, thus it can be accessed from anywhere, anytime. It can be set up with your PC, tablet, cell phone, etc. devices. Thus, it can help you make your English writing better.
#2. Plagiarism Checker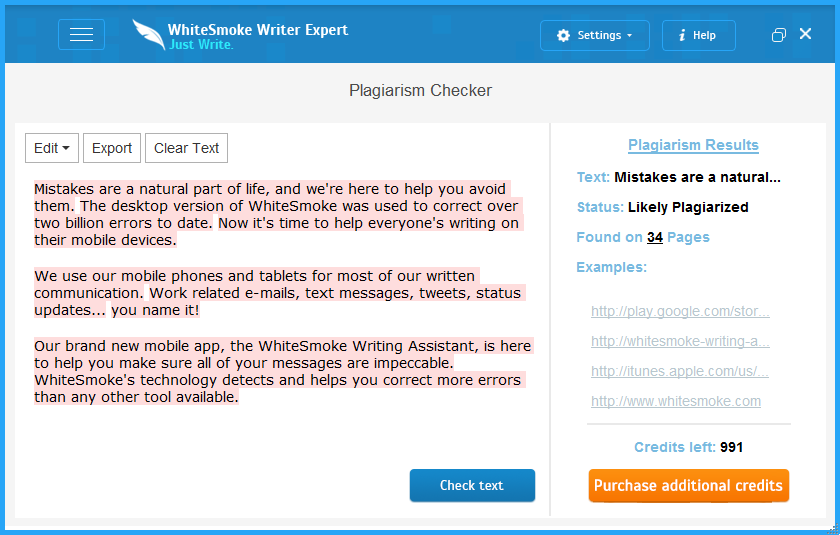 White Smoke provides a plagiarism checker the same as Grammarly. This will help you ensure that the whole content is unique and error-free. It also shows you suggestions to fix the plagiarized content.
#3. White Smoke Translator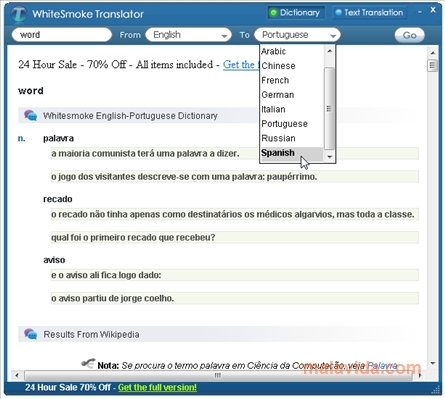 One of the extra features that White Smoke provides is the translator. It can translate your content into more than 45 languages. This includes languages like English, German, Spanish, French, etc.
#4. White Smoke Writer
This feature of White Smoke helps you check grammatical errors, punctuation mistakes, sentence structuring, and style of writing. With the developed algorithm and intelligence, Smoke Writer suggests you about the tone of the sentences, mistakes and analyzes it. It can work with platforms like MS Word, MS Outlook, etc.
#5. White Smoke KIBO
This is one of the finest features available in any of the error checking tools. White Smoke offers an Android keyboard for mobiles. This helps you avoid spelling mistakes in writing. It will help you while you write with your phone.
With this, you might have got a clear idea of the features of Smoke Writer. The main purpose of writing this post on Grammarly vs White Smoke Review post was to introduce to the features of Grammarly and White Smoke. Here we differentiated the two online tools based on the features they provide.
So, now after reading this post on Grammarly vs White Smoke review, it would be easy for you to select one out of the two tools. While selecting the tool, first have a clear idea of your usage and also see your budget and requirements. This will help you select the finest tool out of the two mentioned here.